For our latest adventure starting in spring 2015, we've decided to travel with
recumbent bikes
.
Why Recumbent Bikes?
During my previous journey by bicycle, I've met couple of travellers cycling the world on recumbent bikes. After cycling with Jacques (who rode a recumbent) in Central Asia, I realized that I originally dismissed this option because I knew too little about recumbents. I cycled about 3000km along with Jacques and that convinced me that I would probably enjoy cycling on a recumbent too.
I've been looking at different models for a while with Justine. She was more interested in a trike because with 3 wheels she woun't have to worry about her balance. On a trike you can even read a map or drink a beer when cycling uphill by 2 km/h, you won't fall.
I thought of it for a while but eventually I didn't want a trike for myself as I really like the sensations of cycling, bending in the curves, having to balance the bike, so I got a 2 wheels recumbent for myself.
Even if it looks hard in the begining, you can learn to keep your balance on it very quickly and then this is a lot of fun. Going downhill on a recumbent feels a little bit like on a sledge, you sit closer to the ground so it feels faster and you can turn by simply pulling slightly your body on the side… this is really thrilling! 🙂
Advantages and Disadvantages of Recumbents
At time of writing, we have cycled less than 1000km, so what follows is written with all our inexperience… however this is how we feel about it.
Advantages
They are incredibly confortable! No more pain in your back or sore bottom, no more need to wear these uncomfortable padded underwear, you feel almost as confortable cycling on a recumbent as reading on your sofa… maybe even more confortable for those who have a hard sofa 😉
They are really fun to ride. As I wrote above, I really like the sensation of cycling downhill with my recumbent.
You see more of what's happening around you (when you know how to keep your balance). Unlike cycling on a normal bike with your head naturally looking towards your handlebar, cycling on a recumbent makes you feel fully in the landscape… well, if you're not convinced of this, think of what position you would prefer for watching a movie. Now imagine the landscape is more or less a 360 degrees never ending movie 😉
They are unusual. While this is sometimes a disadvantage, most of the time, this is actually a cool thing because many people are curious about these weird machines, so they come and talk to us…
They are less likely to get stolen.. As most people don't know how to cycle on a recumbent, out of the main cities, there's really little chance that someone would jump on it and cycle away !
You can repair them as easily as a normal bike because apart from the frame and handlebar, they are using the same bike parts as any other bike.
You get less annoyed by front wind because you sit closer to the ground and in a more aerodynamic position… this means also you are faster when cycling downhill.
As the trike has a third wheel, you can climb the hills as slow as you want without any risk of falling. When you cycle, the trike feels very responsive. Justine also tells me that the feeling of going downhill on the trike, fast and so close to the ground, feels like being in some kind of rollercoaster.
Unlike what most people think, they are probably not more dangerous than a normal bike. The most important is to make sure you are visible in the traffic and for this we have fluo fanions and fluo bag covers. Once the drivers see you, they are rather surprised and so far I find that they are more respectful than when I cycle on my regular bike.
Disadvantages
They are heavier, harder to push (because they are low) and harder to hold than a normal bike. On tour, this means they are more complicated to carry to the 6th floor of a building or to a remote bivouac place. However, both bikes fit in most of the elevators once you remove the luggages and with a bit of training, I guess you can manage more or less any situation.
Because they are produced in small quantities, they are from 25% to 50% more expensive than a regular touring bike for the same level of equipment. As they are unusual, they also look expensive, so cycling with them displays that you are not the poorest cyclo-traveller.
They can be harder to ride on rough tracks. The trike is espacially limited here because you sit very close to the ground and you have to avoid potholes for each of the 3 wheels. Otherwise, with a 2 wheels recumbent you can more or less manage any terrain with a bit of training.
On the trike, you need more space to make a U-turn because you have a smaller turning radius.
You get wet faster under heavy rain, and even the best goretex jackets will leak from the zips after a while if you are not carefully removing the little puddles of rain building on your chest.
Finally, they are also harder to lock because of their frame shape and size. We actually use a combination of 3 locks… but this is balanced by the fact very few people would dare to steal them.
What bikes did we choose?
Both bikes are from the Czech manufacturer
Azub
. My bike is an
Azub 6
and Justine's trike is an
Azub Tricon 26″
.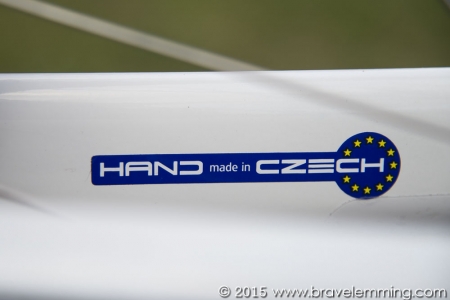 Azub has a good reputation among travellers. They are a friendly team who builds good quality bikes. They are also used to having travellers using their bikes and they try to help and send repair quickly when needed.
Azub 6 configuration
The Azub 6 is a sturdy recumbent bike with 20″ front wheel and 26″ rear wheel. The small wheel in the front makes the bike a little slower but more stable on terrain so it is basically the bike which is advised for long travel.
Like my previous travel bike, this one is equipped with a 14 speeds
Rohloff speedhub
which makes it extremely confortable to ride. The Rohloff Speedhub allows to change gears anytime without pedalling. It is reliable and sturdy and only needs quick maintenance every 5000km.
Regarding brakes, you can read pretty much everything on the web. Unlike most people, I beleive that mechanical disc brakes
Avid BB7
are the best option. They offer a good compromise as they brake much better than V-brake (which is very useful if your bike is heavily loaded). They are also simple enough to adjust or to repair anywhere in the world as they use standard V-brake levers and cables. You just need couple of spare pads and you're ready for thousands of kilometers.
I really like the
brake levers with blocking
which make it very handy to get on the bike or park it anywhere when the road isn't flat (which is the case half of the time). I would advise this to anyone.
Most travellers chose their recumbent with
Above Seat Steering
(ASS) which seems to be practical on tour as the handlebar is less at risk in case of fall. However, I decided to go for
Under Seat Steering
(USS) as I like much more the feeling of cycling with my arms relaxed on the sides and nothing in front of me, though this position is more dangerous for the bike as the handlebar will systematically hit the ground in case of fall.
For those interested in more technical details, the other options I chose for the Azub 6 are:
– 20″ Suspension front fork MEKS
– Rear suspension SUNTOUR EPIXON LORP (LockOut) 165mm
– Shimano Deore chainset with two chain wheels. As the Rohloff already needs a chain tensionner because of the rear suspension, having two chain wheels on the crank makes sense. Changing the chain wheel is easy enough to do by gendly pushing the chain to the chain wheel.
– Front wheel 20″ with front hub SON 28 dynamo DISC 6-hole, 36d (one of the only dynamo on 20″ wheel)
– Busch & Muller Light set (for dynamo)
– Front wheel 20″ Remerx Grand Hill rim with 20″ Schwalbe Marathon Plus
– Rear wheel 26″ Remerx Grand Hill rim with 26″ Schwalbe Marathon Mondial
– Seat pad Ventisit Comfort
– Mudguards SKS
– Expedition carrier which allows to carry 2 pairs of regular back panniers.
– Shimano combo SPD pedals
– Pletscher Stand
– Mirror on the left and side (but I wish to get also one on the right hand side as it is not as easy to look backwards on recumbent as on a regular bike).
– Our bravelemming flag to be visible =)
Azub Tricon configuration
The Azub Tricon is a trike with two front wheels and one rear wheel with suspended rear fork. The original version of the Tricon has 3 wheels of 20″ but this year Azub introduced a new model of their trike with a 26″ rear wheel. For us, the main advantage of a 26″ rear wheel is that the dérailleur leg is a lot further from the ground and this prevents it from being damaged.
Like on the Azub 6, we decided to equip this bike with a Rohloff speedhub and a crankset with two chain wheels. We've had a regular Azub Tricon before this one and having a Rohloff on a trike really makes a difference, as you never have to start in the wrong gear, you can pick the right gear anytime.
Regarding brakes, we've chosen drum brakes instead of mechanical disc brakes. Drum brakes have little less power than disc brakes but they are cheaper and require absolutely no maintenance. They are almost indestructible, which is perfect for Justine, and above all, they look nice 😉
Because Justine hands are pretty small and because we couldn't find any brake lever with blocking that was adjustable, we decided to go for adjustable levers without blocking. Because trikes really need hand brakes (otherwise they leave without you when the terrain isn't flat), we've chosen to add a hand brake (Avid BB7) on the rear wheel, so Justine's Tricon is equipped with 3 brakes.
Azub trikes frames are foldable and this option is interesting for us as we will most probably have to take planes once or twice in our journey.
The rear suspension probably makes the trike more fragile but also more comfortable. Actually we never tried a trike without suspension so we cannot much talk about it.
Again, for those interested in more technical stuff, here are some more details about Justine's trike configuration:
– Remerx Grand Hill rims (2×20″ and 1×26″)
– Front tires 20″ Schwalbe Marathon Plus
– Rear tire 26″ Schwalbe Marathon Mondial
– Trike mudguards 20″20″26″
– Trike Carrier
– Computer sensor mount
– Busch and Muller Ixon IQ premium front lights (x2) (these lights are great)
– Couple of different rear lights
– Shimano combo SPD pedals – Left side mirror (from Mirrycle)
– Head rest (for siesta by the sea)
– Our bravelemming flag to be visible =)
Luggages
Azub is famous for designing some of the best recumbent racks. On both bikes we can easily fit 2 pairs of regular bike panniers. Couple of days before leaving Justine decorated her panniers with reflective stickers so I'll share this 🙂
Justine's panniers are
Ortlieb City
and I would not recommend these as they are not very practical to close (you cannot adjust the length of the side straps and they lack the central strap). Ortlieb classic are already much better for touring. I also like a lot my 2 pairs of Vaude Aqua Panniers with their hard plastic back.